A review of magma movements in Icelandic volcanoes and integrated interpretation of volcano deformation and seismic patterns is now published in a new book chapter on "magma movements in volcanic plumbing systems and their associated ground deformation and seismic patterns".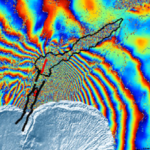 The authorlist includes:  Freysteinn Sigmundsson, Michelle Parks, Rikke Pedersen, Kristín Jónsdóttir, Benedikt G. Ófeigsson, Ronni Grapenthin, Stéphanie Dumont,
Páll Einarsson, Vincent Drouin, Elías Rafn Heimisson, Ásta Rut Hjartardóttir, Magnús Tumi Guðmundsson, Halldór Geirsson, Sigrún Hreinsdóttir, Erik Sturkell, Andy Hooper, Þórdís Högnadóttir, Kristín Vogfjörð, Talfan Barnie,Matthew J. Roberts.
The name of the book is "Volcanic and Igneous Plumbing Systems",  edited by Steffi Burchardt. Published by Elsevier in summer 2018.  See abstract here.