As a great fan of the historical novel, I waited eagerly for the 2018 longlist of the Walter Scott Prize for historical fiction to be announced, and this finally happened on 1 March (incidentally, my birthday). I've tried to make an effort in the last few years to read the winner of the prize plus as many others from the long/shortlist as possible. In 2016, I read all the novels on the shortlist and tried to make a guess as to what the winner would be, but of course I was wrong. That year, I wrote a piece on the Walter Scott Prize as well as on the shortlisted novels and the winner, Tightrope by Simon Mawer. The article is in Icelandic and can be found on Hugrás, the e-zine of the School of Humanities.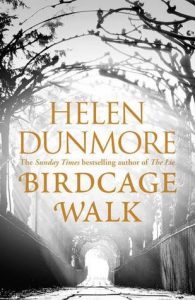 I felt rather not up to date when I saw this year's longlist as I had only read (listened to) one of the longlisted titles. This is Helen Dunmore's last novel, Birdcage Walk. I am a great fan of Dunmore's writing and absolutely loved her WWII novel The Siege as well as her post WWII novel Exposure, shortlisted for the 2016 Walter Scott Prize. As for Birdcage Walk, I was not as impressed by it as by the other two. Yet it is an atmospheric and poetic tale of the constraints of marriage and class set in a favourite city of mine, Bristol. There are unconventional and interesting characters, there is a family secret and a sense of menace, and the social unease generated in England by events in France (where the French Revolution is taking place) is palpably felt. Nevertheless, as stated in this Guardian review, it "does not reach the heights of Dunmore's best work."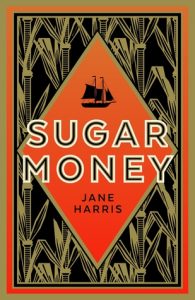 I have improved on my longlist performance since the beginning of this month and have just finished listening to Jane Harris's Sugar Money, which takes place in the Caribbean in the 18th century. This is simply a novel one cannot put down (or stop listening to), as it is full of action, excitement and adventure; you really want to know what happens next, and how the main characters will fare. The novel is based on a true event when French-owned slaves from Martinique were sent on a mission to steal British-owned slaves in Grenada and smuggle them to Martinique. The story is told by 12-year old Lucien, the fictional younger brother of the actual slave who was sent on this mission, in 1765. The brothers do not have a say in the matter, they have to embark on this dangerous journey because their master has ordered them to, and the reader has an uneasy feeling all along that things will not turn out so well, even though it is obvious from early on in the narrative that Lucien at least will manage to come through it all somehow. The horrors of slavery are made abundantly clear in this tale, but I do agree to an extent with Leone Ross that the terrible suffering of slaves in history is given too light a tone and obscured by the rollicking adventure. Nevertheless, it is such a well written novel that I will definitely pick up other titles by Jane Harris soon to read.
I have set myself the task to read as many of the longlisted titles as I can by the time the prize is announced in June this summer, and so I will continue to give updates and opinions on my reading here. Next up is The Bedlam Stacks by Natasha Pulley. More on that later.