About myself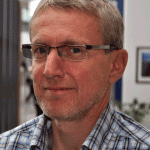 I am a human geographer. My research has primarily centred on two different themes: rural and regional development, and nature-culture relations. Recently I have for example been studying sheep in the Icelandic landscape. The sheep are active participants in creating Icelandic landscapes, and are also central to Icelandic culture. But I am interested in other things also: I am right now doing a project on cycling in the urban environment. Cycling is an important component of sustainable transport, and we are trying to find out what encourages or discourages the use of cycles for everyday travel.
University studies
BS in Geography from the University of Iceland, 1987.
MA in Geography from the University of Auckland, 1990.
PhD in Human Geography from the Australian National University, 1997.
Distinction:
University of Auckland – Cumberland Prize 1990
Scholarships:
Australian National University PhD-Scholarship, 1993-1997
Overseas Postgraduate Research Scholarship (Australia), 1993-1997
Teaching
Professor at the University of Iceland from 2006
Senior Lecturer at the University of Iceland 2002–2006
ERASMUS teaching exchange at Universitat Autònoma de Barcelona (1999) and Università degli studi "Gabriele d'Annunzio" Chieti Pescara (2009)
Taught in doctoral courses at the University of Oslo (1997), University of Tromsø (2004), University of Stockholm (2008) and Swedish Agricultural University (2010)
Lecturer at the University of Iceland 1997–2002
Tutoring in human geography at the Australian National University, 1996
Teaching full-time at the University of Iceland, 1991–1993
Teaching part-time at the University of Iceland, 1990
Tutoring in human geography at the University of Auckland, 1989
Tutoring at the University of Iceland, 1987